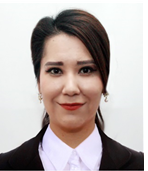 Assistent at the Department of Environmental hygiene
Address: 100109, Tashkent, Farabi street 2,
Phone.: 97-761-86-82
E-mail: akidaimamova@gmail.com
Education:
2010-2017yy. – student Tashkent Pediatric Medical Institute "Pediatric work"
2017-2021 yy. – Master Tashkent Institute of Pediatrics Specialty "Neonatology".
Labor activity:
2017-2018 yy.- school doctor of India international school of Japan. Tokyo
2018-2021yy. – Family doctor 44 polyclinic in Tashkent.
2021yy. – Tashkent Medical Academy – Assistant of the Department of Environmental Hygiene.
Scientific activity: In 2021 he successfully defended his master's dissertation on   "Features of the course of the neonatal period in newborn children with Down's syndrome ".
Scientific works published over the past years:
Articles:
Название статьи, тезиса

4-статы.3-тезисы

Название журнала, научного сборника. Номер, дата, номер страниц
Соавторы
1

Особенности  клинические  течение у новорожденных, родившихся от матерей  с гипертензивными расстройствами"

 Студенческый научный форум 2020.

Россия.

Имамова А.О

Гулямова М.А

2
"Особенности  клинические  течение новорожденных детей с синдромом Дауна"

.

Xll международный студенческая научная конференция "студенческий научный форум 2020"

http://scieneforum.ru/article/2020/20180186761

Имамова А.О

Гулямова М.А

3
Clinico anamnestic characteristic of newborn children with Down syndrom

Талабалар Илмий Жамияти"

нингРеспублика

илмий-амалий анжумани.

Тошкент 2020

Имамова А.О

Гулямова М.А

4
Frequency of clinical syndromes in newborn children with Down syndrom

Талабалар Илмий Жамияти"

нингРеспублика

илмий-амалий анжумани.

Тошкент 2020

Имамова А.О

Гулямова М.А